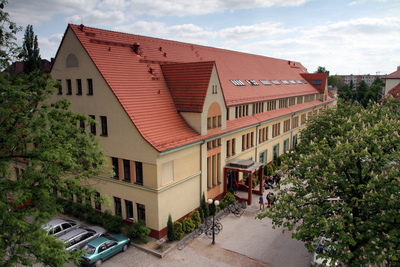 About Us
The Institute of Political Science at University of Wrocław is one of the biggest and the most dynamic centres of political science research in Poland, with 300 students (50 students graduate every year), 50 doctoral students and 56 employees. The Institute was formed in 1969, and in 1970 there were established three-year doctoral studies in the Institute, and a few generations of students have already finished them. The Institute was given the right to award PhD degrees in 1972, and until today more than one hundred people have received the PhD degree from the Institute. The right to confer habilitation degrees the Institute acquired when the Faculty of Social Sciences was established (1988). From that time several dozen of people have earned their habilitation degrees in political science. The Institute of Political Science itself obtained the right to confer habilitation degree in 2012. It is to confirm the highest standard of scientific achievements of the Institute of Political Science.
The Institute of Political Science is a publisher of two journals:
Institute of Political Science offers Bachelor (BA), Master (MA) and Doctoral (PhD) programmes in Polish and in English. In Polish, we offer two fields of studies:
Political Science (Politologia) – BA, MA and PhD level,

"Social projects managent - BA and MA level",

"National security managent - MA level"

.
Our offer of studies in English consists of:
Bachelor programme (3 years / 6 semesters)
Master programme (2 years / 4 semesters) - PhD programme (4 years).
The Institute of Political Science was awarded in 2013

OUTSTANDING ASSESSMENT
If you are looking for an opportunity to study in a friendly, European city which offers great perspectives for students, Wrocław is the place. It is not only a fast developing academic centre with traditions which attracts students from all over the world but also a city that has been chosen as the European Capital of Culture for the year 2016. With its beautiful city centre and old town, with its green parks, theatres, festivals and clubs, Wrocław is without doubt a place worth visiting, living and studying.
The Institute of Political Science with its campus:
Is located in a quiet and green region which is well-connected with other areas of the city and accessible by public transport
Includes a bar, drinks, vending machines, and a copy shop
During warmer days, offers classes on the patio just outside the main building
Has a library with an extensive academic collection that is equipped with reading a room with computers and workstations. The Library additionally holds an archive documenting over 30 years of social and political life in Poland
The Institute of Political Science is a perfect place for study and development. Our educational offer is adjusted to the demands of the modern world and up-to-date teaching solutions. The programmes we offer meet the current requirements specified by the Polish Ministry of Science and Higher Education, as well as those defined by our students and people who have a practical insight into a given field – the representatives of stakeholders who cooperate with us.
The Institute of Political Science is also the organiser of the Summer School on Democracy and numerous scientific conferences.